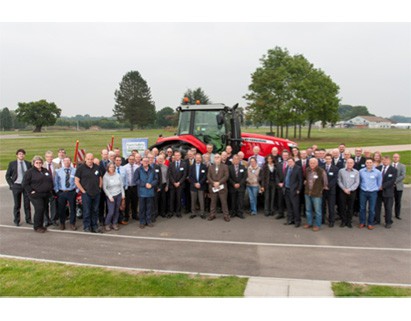 A Farm safety campaign organised by the cross-industry Farm Safety Partnership and launched at the NFU, Warwickshire headquarters in October last year, and attended by eighty delegates, representing a wide cross section of the industry was deemed a huge success.
The first part of the campaign is called Safe Stop and focuses on accidents caused by poorly-maintained handbrakes on farm vehicles.
Adam Quinney, NFU vice-president and Farm Safety Partnership chairman, said:
"Sadly there are still too many accidents where people are killed or injured by the equipment they are operating. We hope by encouraging people to follow the steps of the 'Safe Stop' procedure, as well as checking the handbrakes of new and existing equipment, we can help to reduce accidents related to machinery."
Agricultural machinery dealers involved in the scheme will provide a set of the 'safe stop' stickers when they carry out a health and safety installation check when customers receive new equipment.
Organiser of the workshop, IOSH Rural Industries Group vice-chair Alan Plom, said: "Although the Safe Stop course of action is not a new concept, it is clear from so many accidents that these simple precautions are being overlooked.
"This is only the start of this initiative and the delegates, representing a wide cross section of the industry at today's workshop, have been invited to share ideas to improve other aspects of machinery safety and come up with new ways to encourage operators to work safely."
Tony Abbott, MD, mylearnadfriend said "Our aim is to improve safety globally; our on-line e-learning can help raise awareness of the dangers of working on farms today. We can also provide product knowledge through e-learning. This will help manufacturers and suppliers fulfil their statutory obligations. We are delighted to have been invited to work with the Farm Safety Partnership and the many organisations that support it".
Supporters of the campaign include: the NFU Mutual, National Farmers Union (NFU), NFU Cymru, NFU Scotland, Ulster Farmers' Union, the Royal Society for the Prevention of Accidents (RoSPA), National Federation of Young Farmers' Clubs and The Health and Safety Executive's (HSE) 'Make the Promise' initiative.