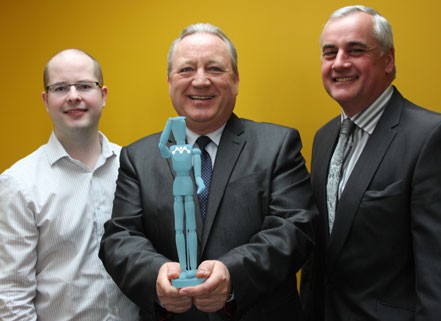 Leading creative agency Calm Digital has announced it has won its largest contract to-date for £100,000 to create a first-of-its-kind health and safety online learning platform.
The lucrative 12 month contract with mylearnadfriend will involve Calm Digital, based in Boho One, Middlesbrough, creating an interactive e-learning website, with approximately 80 modules, that also integrates advertising of associated health and safety products.
The www.mylearnadfriend.co.uk site will launch the Safe Worker level two course in May – in order that businesses can provide their staff with appropriate health and safety training and gain accredited qualifications. Over the coming months three additional courses, including the Safe Supervisor, Safe Manager and Safe Director, will be added.
The unique website has multiple 360 degree workplace panoramas for users to identify hazards and bespoke packages can be created for companies to illustrate specific industry environments.
mylearnadfriend, also based in Boho One, was established in 2012 by Tony Abbott, David Clark and Alan Hammersley, who collectively have more than 100 years' experience working in health and safety, and e-learning.
Bianca Robinson, managing director of Calm Digital, said: "We are delighted to announce Calm Digital has won its largest contract for £100,000 since establishing only three years ago. The 12 month contract, which was negotiated by Philip Allick and Andrew Murphy on behalf of the team with the mylearnadfriend directors, will involve new learning modules, interactive games and adverts being created and added to the platform continuously.
"Every business is required to provide its personnel with accredited health and safety training, no matter if they are hairdressers or construction firm. The e-learning programme works for any industry, and bespoke packages can be created to portray particular working environments using workplace panoramas.
"By integrating advertising within the e-learning course, associated health and safety products can be dynamically displayed, enabling learners to recognise products which can improve safety performance within the workplace."
Calm Digital - which offers multi-discipline services including web, brand, design, campaigns and marketing – was appointed by mylearnadfriend due to its reputation for creating innovative learning platforms, including reading programmes.
Mr Abbott, managing director of mylearnadfriend, said: "Health and safety training has long been regarded as expensive and a burden on companies because employees require time away from the workplace. We wanted to create a programme that would be affordable but also accessible 24/7.
"When we met with Calm Digital they embraced our vision and passion to create the platform. It is an innovative concept for the health and safety industry so we are delighted to see our vision become a reality because of the agency's expertise.
"We are delighted with the work Calm Digital has done to bring the platform to life. We have received fantastic feedback from employers throughout the world, before even launching, about how interactive, user friendly and engaging the site is."
For further information about Calm Digital and the services it provides, including creating innovative learning platforms, visit www.calmdigital.com or contact 0845 058 0511.