Tony Abbott MD of mylearnadfriend and Dan Riley MD of Spearhead interactive are establishing a revolutionary partnership in the field of e-learning, initially targeting safety training.
Through collaboration, they are combining a unique e-learning platform with the latest in interactive 3D technologies to bring their clients the best of both worlds in a package which maximises the learning potential for users through unparalleled immersion, engagement and assessment.
mylearnadfriend established in August 2012 have created a unique e-learning platform. The platform incorporates a management system which enables employers to track employee progress from registration through to certification and retains training records as proof of legal compliance.
Dan Riley said of the venture, "We've been in discussions with mylearnadfriend for some time now and have developed a very strong working relationship. The potential applications for interactive 3D content are virtually limitless and we're very excited to take the first steps into commercial training utilising our solutions.
"The partnership with mylearnadfriend provides an incredible opportunity to showcase the power of the technology in a purposeful and meaningful way within the professional and highly beneficial system developed by Tony and his team".
Spearhead Interactive established in February 2013 building on six years of R&D at the forefront of on-line 3D and Virtual Worlds technology for corporate engagement purposes.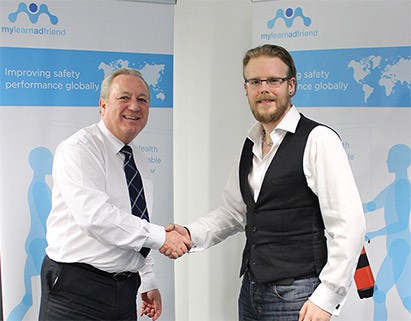 Tony added "We are extremely excited about the venture. We are already looking at ways to augment the existing e-learning programmes. This will be a step change in the way people view safety training in the future".